MythTV Status
[ Home | About Us | Blog | Pictures | Projects | WebMail ]

This Perl script will display the current status of your MythTV system at the command line. It can optionally append it to the system message of the day (MOTD) on a regular basis (setup by default on Debian, and Debian derived distros).
Features
Displays the state of your encoders,
Displays any shows currently being recorded,
Gives a list of the upcoming recordings,
Shows any schedule conflicts,
Can send emails if there are schedule conflicts,
Gives the amount of time until the next scheduled recording,
Can use colour!
Reports on disk space, and with some extra patches applied to MythTV supports reporting on individual storage groups in the SVN trunk version of MythTV,
Report if the program guide (EPG) doesn't have enough data (by default 2 days),
Most of these features don't require having special access to the database (only the schedule conflicts does).
The shows which are due to auto expire.
Screenshot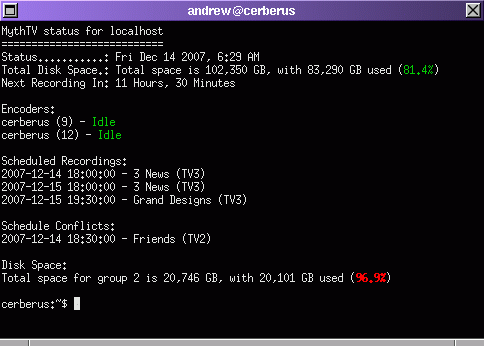 Getting it
Debian/Ubuntu
mythtv-status is in both Debian and Ubuntu, but the version may be out of date. If you want a newer version, then you can install it from my own repo:

deb http://debian.etc.gen.nz squeeze main
deb http://debian.etc.gen.nz sid main  -- Or just use the main Debian repo!

And then apt-get install mythtv-status, that's it.

The GPG key for the repo is 0x45D164F6 (the easy way to grab the key is: apt-key advanced --keyserver subkeys.pgp.net --recv-keys 0x45D164F6 .)
Fedora
Available as a package to install via dnf.
Gentoo

emerge mythtv-status

You can see the package page as well.
Tarball
Tarballs are available here, and the latest is called mythtv-status-latest.tar.gz.
Git
The source code is in a git repository which you can browse. To grab it you can do:

git clone http://git.etc.gen.nz/mythtv-status.git

Check out the ChangeLog for recent (and upcoming) changes.
Patches welcome!
---
| | |
| --- | --- |
| Ohloh: | |
| Last Updated: | 2019/02/08 |